Social Work Career Fair
MSW and BASW students, please join us on Thursday, April 19th for a Career Fair with dozens of local agencies who are looking to recruit and hire you and your peers.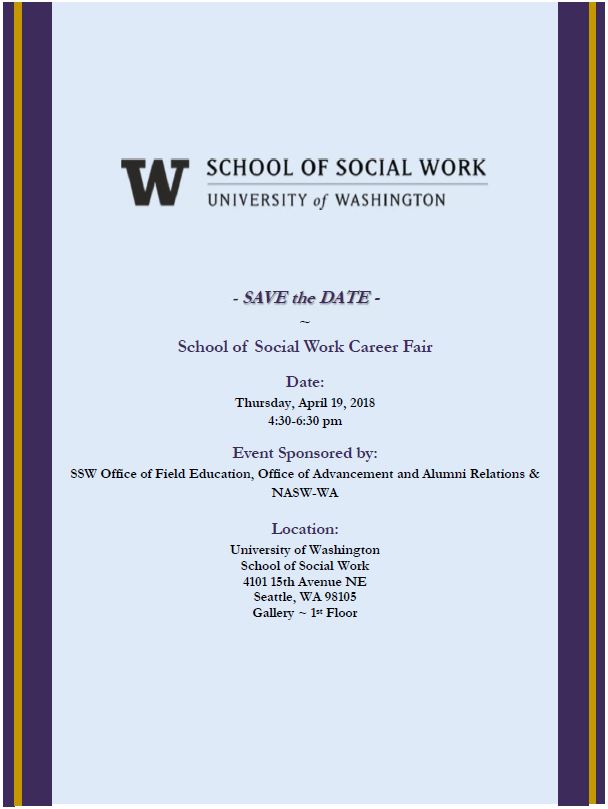 Agencies that will be represented at the Career Fair include: API Chaya, Asian Counseling & Referral Service, Bethany Christian Services, Cadence Child & Adolescent Therapy, Catholic Community Services, CHC of Snohomish County, Community Psychiatric Clinic, Compass Housing Alliance, DESC, DSHS - Children's Administration - Region 2, Friends of Youth, Highline Public Schools, Launch, Lifelong, NASW: Washington State Chapter, Northwest Kidney Centers, Pioneer Human Services, PROVAIL, ROOTS Young Adult Shelter, Seattle Police Headquarters, Domestic Violence Unit, Victim Support Team, Sound, Swedish & Providence St. Joseph Health, The Arc of King County, United Way of King County, University of Washington Medical Center, and Valley Cities Behavioral Health Care.
---
Resume Construction for Social Workers
When:               Wednesday, October 11     5:00 – 5:50 PM   (50 minutes)
Where:              School of Social Work    (please register for specific room location)
Presenter:           Alison S. McCarty, Senior Career Counselor, UW Career Center
Who:                  MSW and BASW students
When was the last time you looked at your resume? Are you wondering how best to incorporate your social work practicum experience and coursework into a competitive resume that will be seen by employers? Alison McCarty of the UW Career Center will present valuable information about editing the format and content of your resume to make it work for you! Best of all, this workshop is geared specifically towards social work students seeking jobs in human services field.
The Road to Social Work Licensure
When:            Tuesday, October 17      5:00 – 5:50 PM   (50 minutes)
Where:           School of Social Work (please register for room location)
Presenter:       Jonathan R. Beard, MSSW, LICSW, CPRP
Who:              MSW and BASW students, SSW Alumni.
The NASW Washington State Chapter is pleased to provide information on Social Work licensure in Washington.  This presentation will outline the steps you will have to take to become licensed as a Social Worker in Washington.  Information on the different licensing categories, required work experience hours and required supervision hours to obtain your Social Work license will be provided.  We look forward to your questions regarding licensure. For those students unable to attend this early evening session, we will be holding a Friday lunchtime workshop in 2018 about Licensure.
Bio of presenter: Jonathan R. Beard, MSSW, LICSW, CPRP is the owner of Progressive Strategies in Seattle, WA, where he provides a variety of project management, consulting, training, and program and/or organizational development services to public and nonprofit human service providers and organizations. He also provides private practice based clinical social work supervision to beginning and experienced social workers who are unable to obtain it where they work. Jonathan has many years of experience as a direct services provider, supervisor/manager and senior executive, primarily in mental health settings. Since 2003, he has taught a social work licensure examination preparation course to hundreds of Social Workers in Washington and throughout the Northwest.  
Interviewing Skills Workshop
When:          Tuesday, November 14     5:00-5:50 PM 
Where:          School of Social Work (please register for room location)
Presenter:     Alison S. McCarty, Senior Career Counselor, UW Career Center
Who:             MSW and BASW students
Are job/internship interviews in your future? Want to brush up on your interviewing skills after a few years in school? Alison McCarty, Career Specialist with UW Career Center, will present on essential skills for a successful interview. Deadline to register is Thursday, November 9th at 6:00 PM.
UW Government Career Fair
No registration required for this Fair. Dress code is business casual
When:           Thursday, October 26      2:00-5:00 PM
Where:          Seattle Main Campus - Mary Gates Hall, Commons
https://www.uwb.edu/getattachment/careers/parents/talk/learn-to-work-a-career-fair.pdf   Are you interested in gaining a career opportunity working in a government setting? Then you will definitely want to attend the Government Career Fair sponsored by the Career Center. A great opportunity to interact and connect with government employers looking to recruit Huskies for part-time, full-time and internship opportunities. Bring your resumes and come join us in Mary Gates Hall, main floor.  Open to all UW students and alumni.     Questions? Please email ccsevent@uw.edu or call 206-543-0535.   Other events offered by the Career Center in fall quarter: http://careers.uw.edu/Calendar.
---
​Can't attend a workshop at School? 
UW Career Center also offers a variety of written materials  and free job search counseling.
QUESTIONS about any of these SSW workshops/events?  Please email Nicole Guenther at npg324@uw.edu
MORE info on Job Search Skills here:  http://socialwork.uw.edu/students/career-planning-process
UW Career Center phone:(206) 543-0535, Email: ccsfd@uw.edu
Please check out their website: Book Your Appointment Online
Workshops, Labs, & Meetups
Resume/Cover letter
Career Guide
DISABILITY ACCOMMODATION:  For general disability accommodation requests, contact UW's Disability Services Office at: 206.543.6450 (voice), 206.543.6452 (TTY), 206.685.7264 (fax), or via email at dso@u.washington.edu.  This event is wheelchair accessible.For interpreting, captioning, amplification services and TTYs. contact the Coordinator of Deaf & Hard of Hearing Services at: Phone/V: 206-543-1415, TTY: 206-543-6452, or via email at dhhreq@uw.edu.